The 4X is a program that opens four Microsoft Internet Explorer windows in your screen.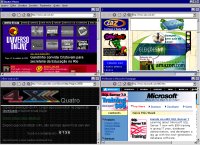 His main features are:
Use of all of the IE 4 features: Java applets, Java Script, secure page, dynamic HTML, frames, tables, ActiveX, etc...
All of the panels are resizable.
Access to the user's favorite list.
Drag-and-drop links between panels. Click over a link in a panel and drag it until another panel, and the link will be opened in this panel. Couldn't be easier, could?
Very easy setup and configuration. The FourTimes uses all of the already existent Internet Settings on the user's machine.
You don't loose any info comparing to the Internet Explorer screen. It's all there: title bar, status bar, toolbar buttons, etc...
Creation of sites groups. For example: you can create a group called "news" with the address of your four favorites news sites. When you call him, the four pages are loaded at the same time.
If you create a group called "startup", this group will be automatically loaded when you start the FourTimes. It's the like you have four default pages!
NEW! Version 2.0 - New Interface. Faster! Better! Much more beatifull!
NEW! Version 2.0 - You can add and organize your favorites list.
NEW! Version 2.0 - If you wish, the FourTimes could "remember" the sites that where last accessed, and reloads them automatically when you start the program.
NEW! Version 2.0 - Multilanguage support.
Like it? So go to the downloads page and get your evaluation copy now!
Comments? Sugestions? Send mail to cgrahl@geocities.com
Last update: 11/03/99